---
Music rehearsal & recording studio in Eastbourne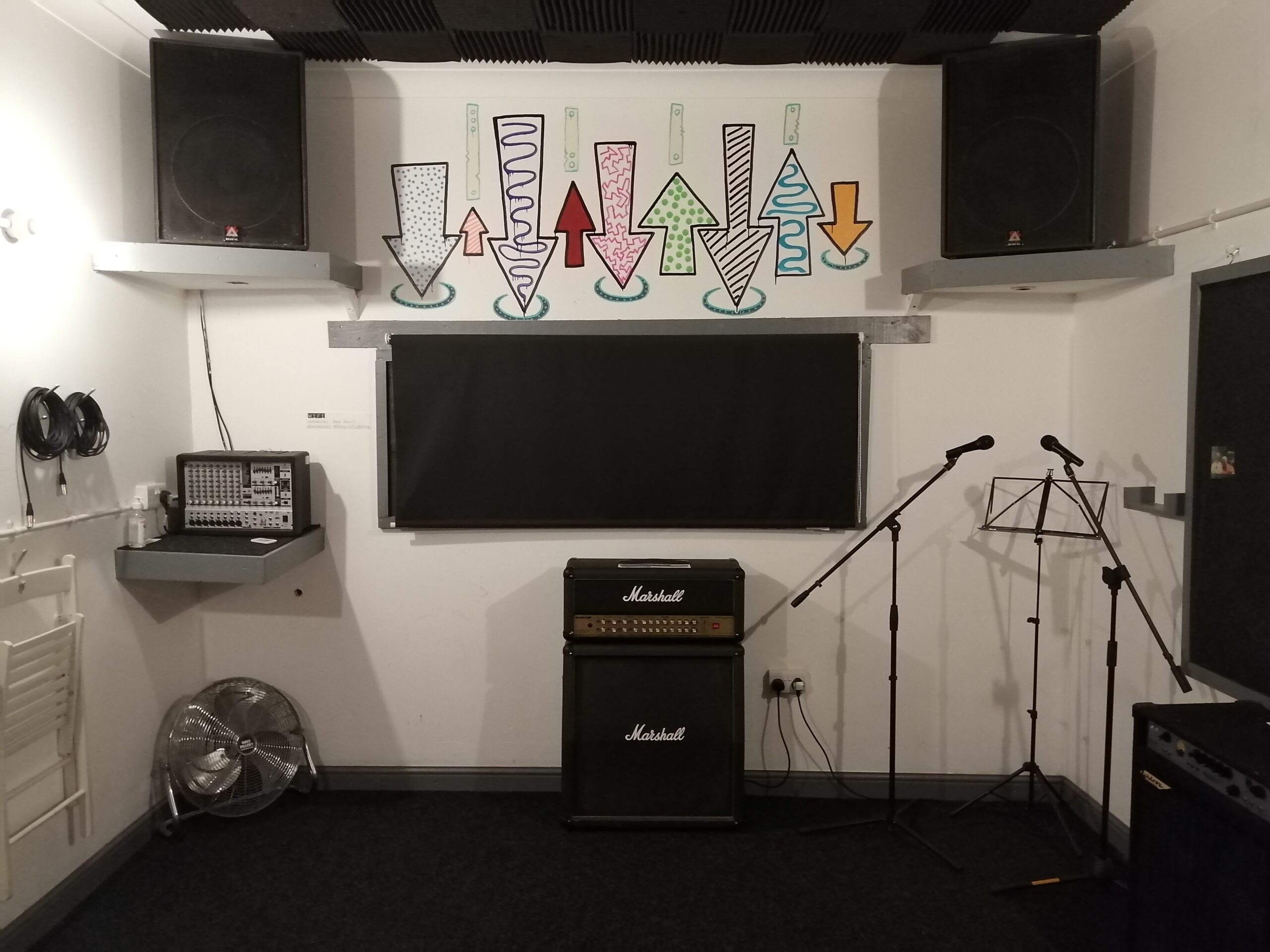 ---
REHEARSAL ROOMS
We have two full-band music rehearsal rooms available to hire. Both are air-conditioned and equipped with a full backline.
MORE INFO

---
HOW TO BOOK
Check room availability and book online 24/7 using our online booking system
Online payments are handled securely by Square.
---
HOURS OF AVAILABILITY
Our rooms are available to book 9am – 11pm daily
Advance bookings only – the studio isn't staffed at all times so please don't travel to the studio without a booking.
---
WHAT'S INCLUDED
Both rooms are equipped with the following backline, which is included in the room price:
Drum-kit non-breakables (everything minus snare and cymbals)
1 x Bass amp (combi)
1 x Guitar amp (combi)
1 x Guitar cab
PA system
2 x mics, stands & leads
Equipment specifics for each room are listed here:  Room 1 / Room 2
Drum breakables and other extras are available to book for a small additional fee.
MORE INFO
---
HOW TO FIND US
Unit 5
64 Belmore Road
Eastbourne
East Sussex
BN22 8BP
We are located in a small commercial yard near the top of Belmore Road. Our building is accessed via a private driveway, which will probably confuse your sat nav. Near the top of BELMORE ROAD look for the driveway between the houses signposted 'Darren's Garage Services'
MORE INFO
---
PARKING
Parking spaces are available directly in front of the studio. We only have space for 4 regular size vehicles, so during peak times this may be limited.
Please lift-share where possible, and park on the street if you aren't carrying heavy equipment (all the surrounding streets are free, non-permit parking).
MORE INFO
---
ACCESSING THE BUILDING
We operate as a self-service studio, so there won't always be a member of staff onsite during your rehearsal. Prior to your session, a code for the front door and your rehearsal room door will be texted to the phone number provided.
Please share the codes with your bandmates and don't leave the building without them. For your security and ours, the code-lock will be enabled on the front door at all times, even if staff are onsite.
MORE INFO
---
ONSITE FACILITIES
Vending machine with cold cans, crisps, sweets & snacks (cash only). Tea & coffee is also available.
Toilets are located outside, to the left of the building
Free wifi
MORE INFO
---
RECORDING
Coming soon…
---
CONTACT
For general enquiries, drop us an email: drew@badhabiteastbourne.co.uk
Please be aware we only take bookings via our online booking system.
---